After CrowPi and CrowPi 2, Elecrow has come up with the third and most refined edition of the CrowPi family - CrowPi L. It's a lite version born out of CrowPi2, where "L" stands for Lite, Light, and Laptop. CrowPi-L is a real Raspberry Pi computer designed for the programming beginners. It was introduced after resolving a few restrictions identified by the users and Raspberry Pi enthusiasts. Some of the issues faced by the users included difficulty in installing the Raspberry Pi, switching systems, cooling and connecting an external display.  CrowPi-L will give users a new experience.
Features:
6-inch 1366*768 screen, keyboard with touchpad;
With 40P GPIO interface to create different project;
96 programming courses for beginners to learn for free;
Built-in 5000mAh battery, which supports the device to work independently for 3 hours;
Support connection with the external display via HDMI;
Dual system switching adapter board, support two trans-flash cards inserted at the same time. Just shift from board A to B with one toggle switch;
Magnetically mounted design makes Raspberry Pi installation easier and faster;
Compatible with Raspberry Pi 4B, not Raspberry Pi 3; 
The 2-megapixel camera with a microphone is connected via USB. Touch pad with left and right buttons is unlocked and locked by using FN+F1 respectively. And users can surfing the internet through either WIFI or network port. Users can also adjust the screen brightness by pressing F9/F10. Equipped with an 11.6-inch IPS screen, the CrowPi L provides a resolution of 1366 x 768. The built-in 5000 mAh rechargeable battery is projected to last 3 hours, making it more like a laptop. Raspberry Pi installation is considerably easy and quick with its magnetically hooked design.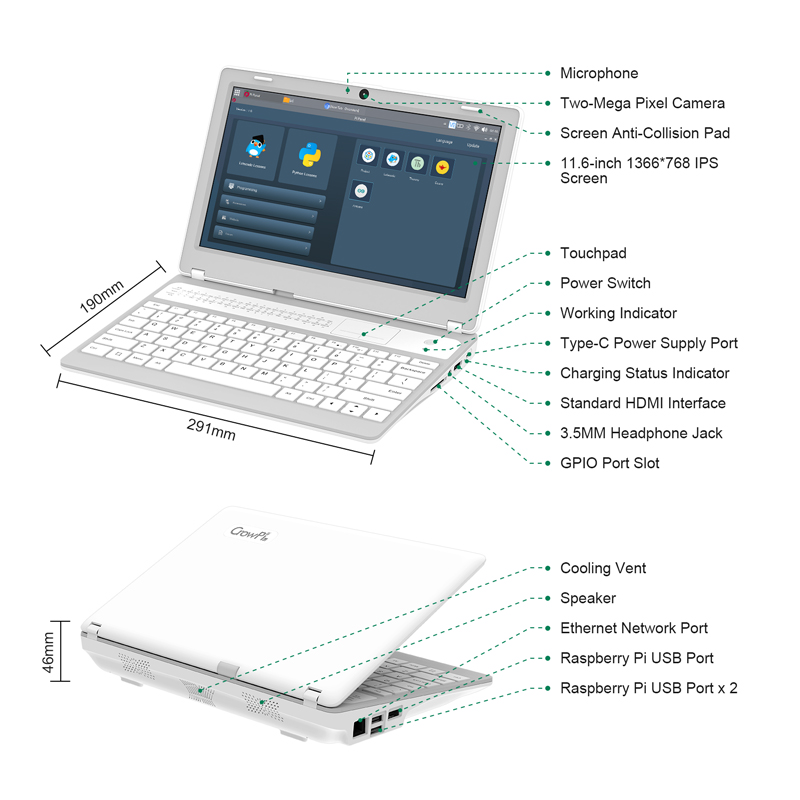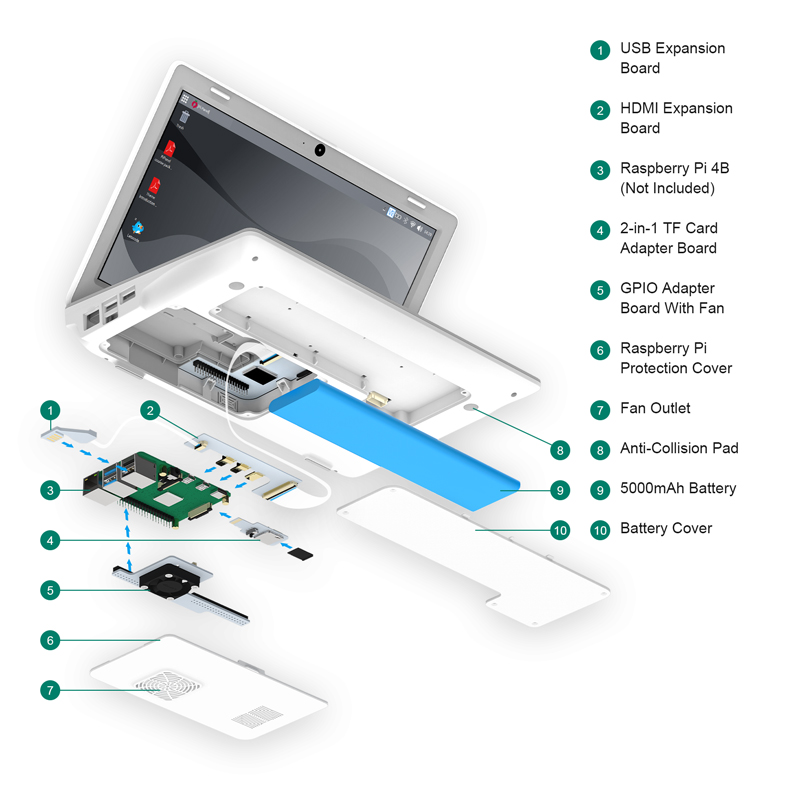 The self-developed dual-system switching adapter board can insert two TF cards at the same time, which allows users to quickly switch systems through the switch on the board. There are two sides to inset cards, one of which is our customized system with visual programming software. If you need other system, you can insert what you want. It satisfies the user's demand for dual-system switching faster.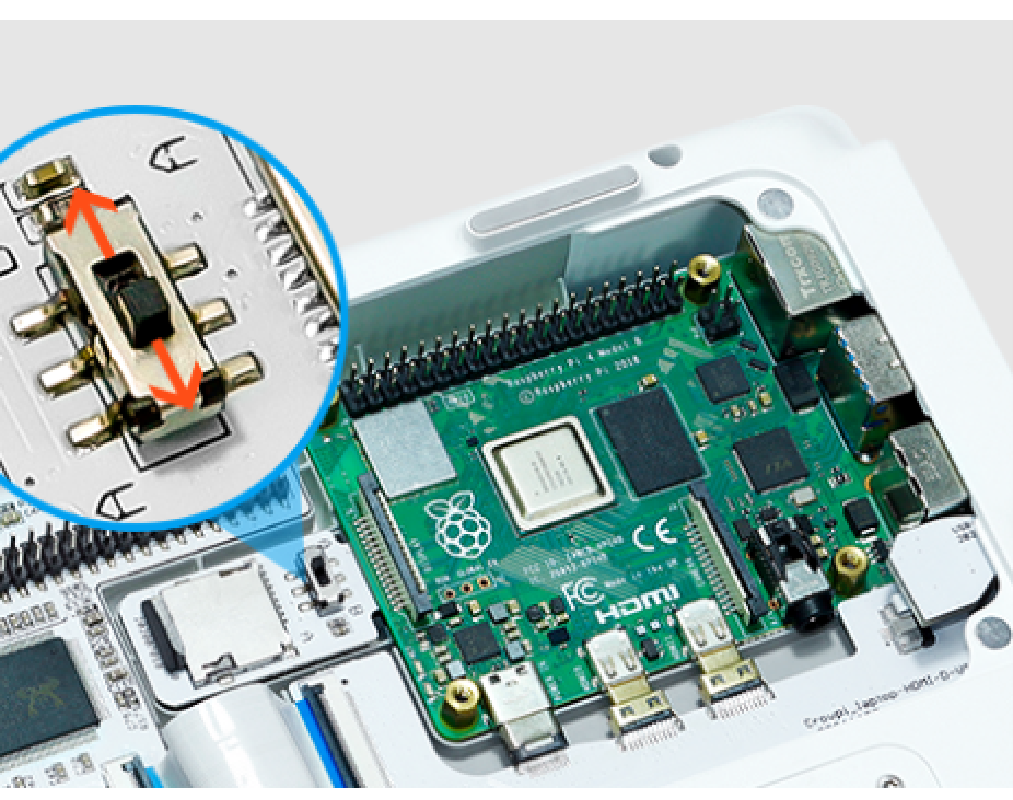 CrowPi-L
 

is a boon for beginners in programming. Built-in course system includes official programming such as Python, Scratch3, Arduino IDE, and Letscode graphics programming. Users can not only learn programming systematically and gradually, but also develop programming on their own. In addition, it supports multi-language, multi-platform visual programming.
For Letscode Lessions:
We offer
 

40

 

courses, including

 

16

 

game courses and

 

24

 

hardware control courses. Letscode is specially designed for first-timers. Simple graphical programming can quickly create interesting games, which can help users build a comprehensive programming system and practice logical thinking. Hardware control is an advanced course, adding a wealth of sensor-related knowledge. The combination of software and hardware can quickly output intelligent electronic projects, thus helping users understand electronic circuits, opening the door of hardware design, and enhancing people's hands-on ability.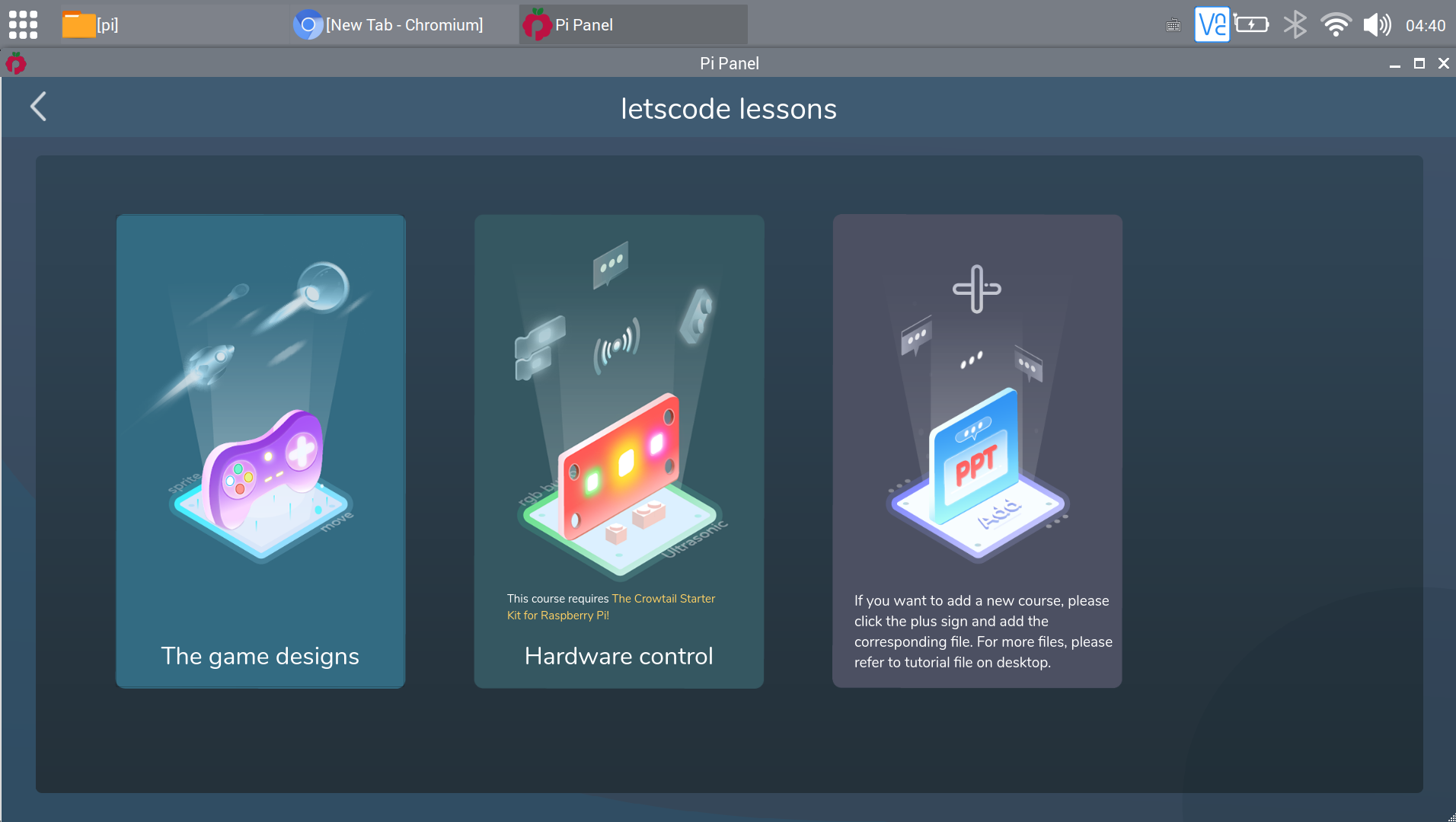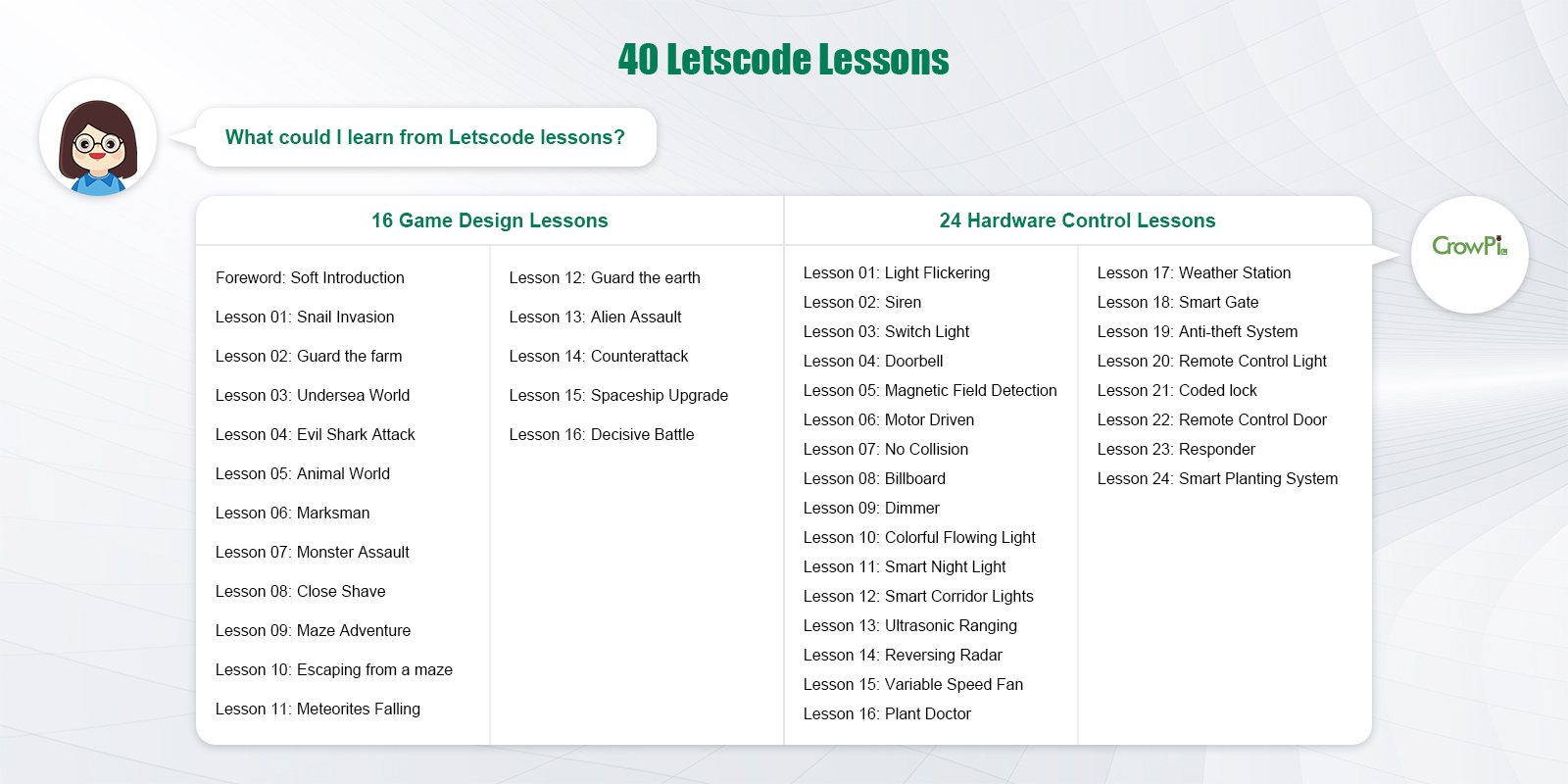 For Python Lessions:
We offer
 

56

 

courses, including

 

32

 

French introductory courses and

 

24

 

hardware control courses. The introducton to Python syntax is suitable for people who have a foundation in graphical programming. Systematic code programming introduction  and phased project design enable users to learn the underlying logic of programming and improve their logical thinking. Python hardware control is an advanced course for grammer introduction. People complete hardware projects through code programming, so as to consolidate and improve their programming ability and cultivate systematic design thinking.