Description
This 10.1-inch IPS HD touch display provides resolution of 1280 x 800 and supports multiple systems including Raspberry Pi, Windows, Linux, Ubuntu, etc. and it is also compatible with Raspberry Pi 3/3B+/4B, Jetson Nano, Beaglebone, Banana Pi, and other mainstream development board. The biggest difference between it and other screens is the RGB water light design on its back, which not only has 19 lighting modes to choose from but also can adjust the brightness. With the exclusive bracket, you can easily create a cool atmosphere together with the lights. HDMI-compatible communication supports plug and play and can be used in multiple scenarios such as Raspberry Pi screen, computer expansion screen, party entertainment system, etc.
It supports 5-point touch and multi-touch gestures, such as click, press, zoom in/out, etc. fast response. With three buttons, you can adjust the screen backlight, RGB light switch, switch the light mode and adjust the brightness. Just use the included HDMI-compatible cable and USB cable to easily connect to the computer without additional operations.
IPS HD 1280*800
178°Full Viewing Angle, offering excellent image and video performance.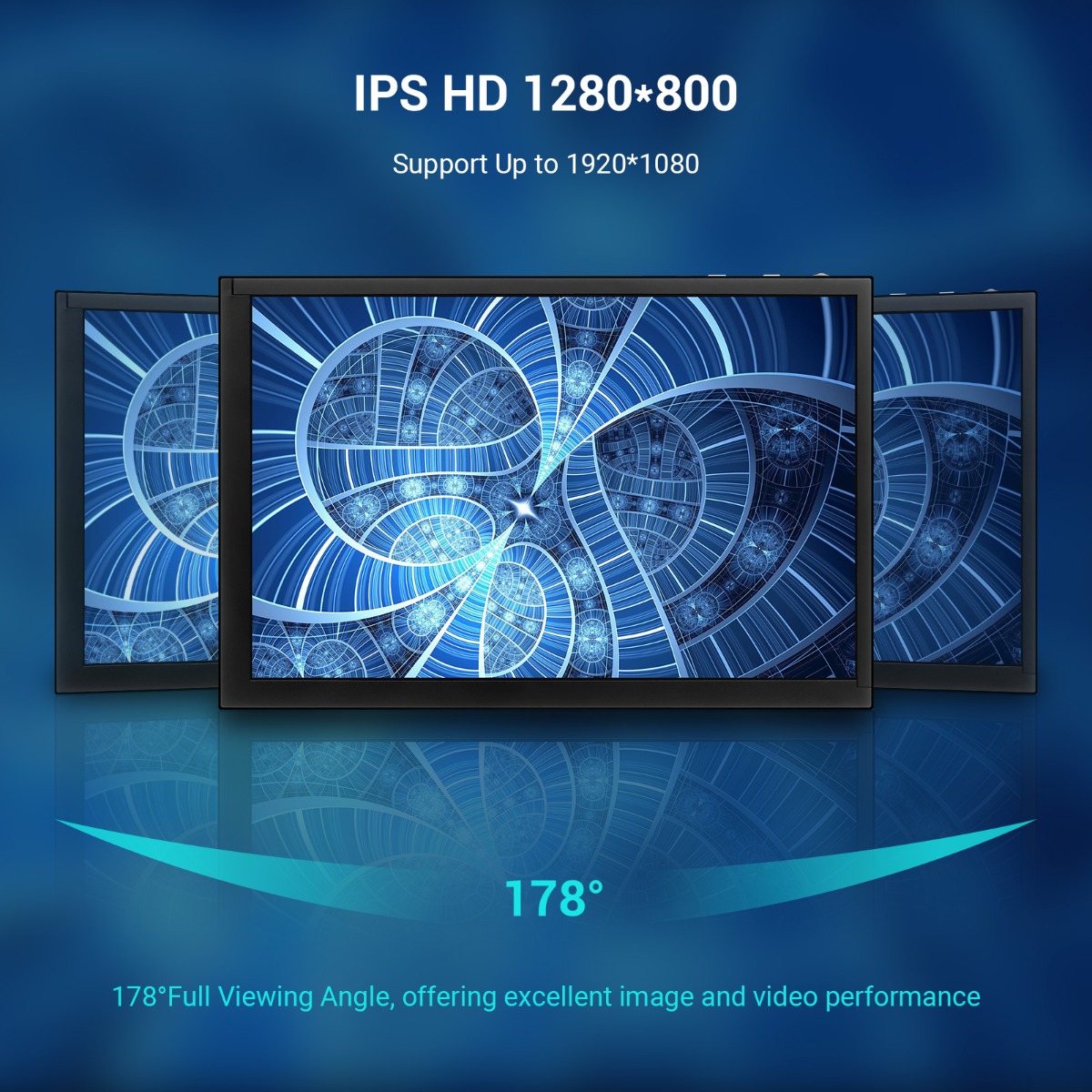 Capacitive 5-Point Touch
Smooth, Accurate and Fast Response.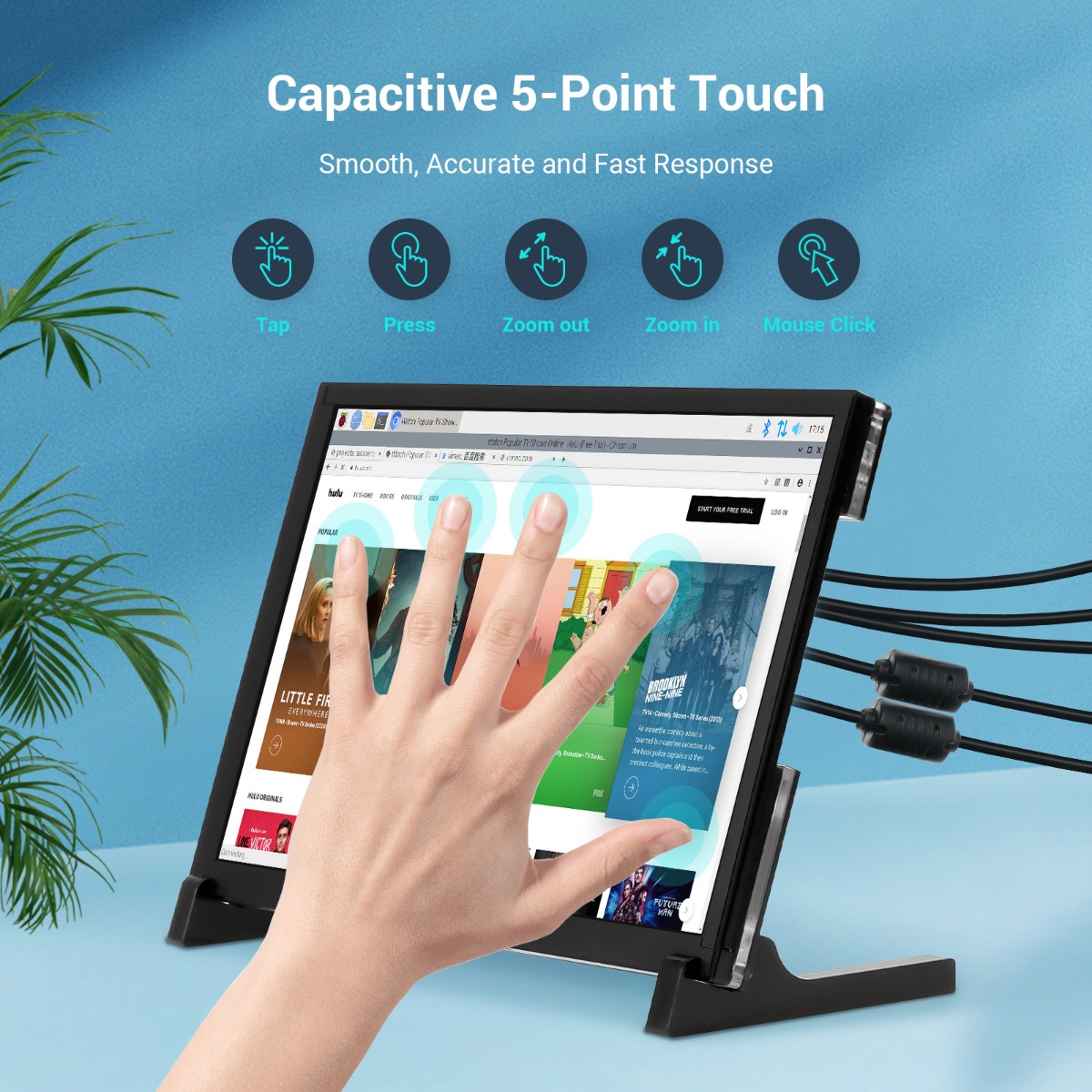 Variety of RGB Animation Lights
19 kinds of RGB light modes, the dial can be switched freely, and supports three-level brightness adjustment, creating a cool atmosphere.

Support Multiple Systems, Plug and Play
Great Compatibility with various OS and devices.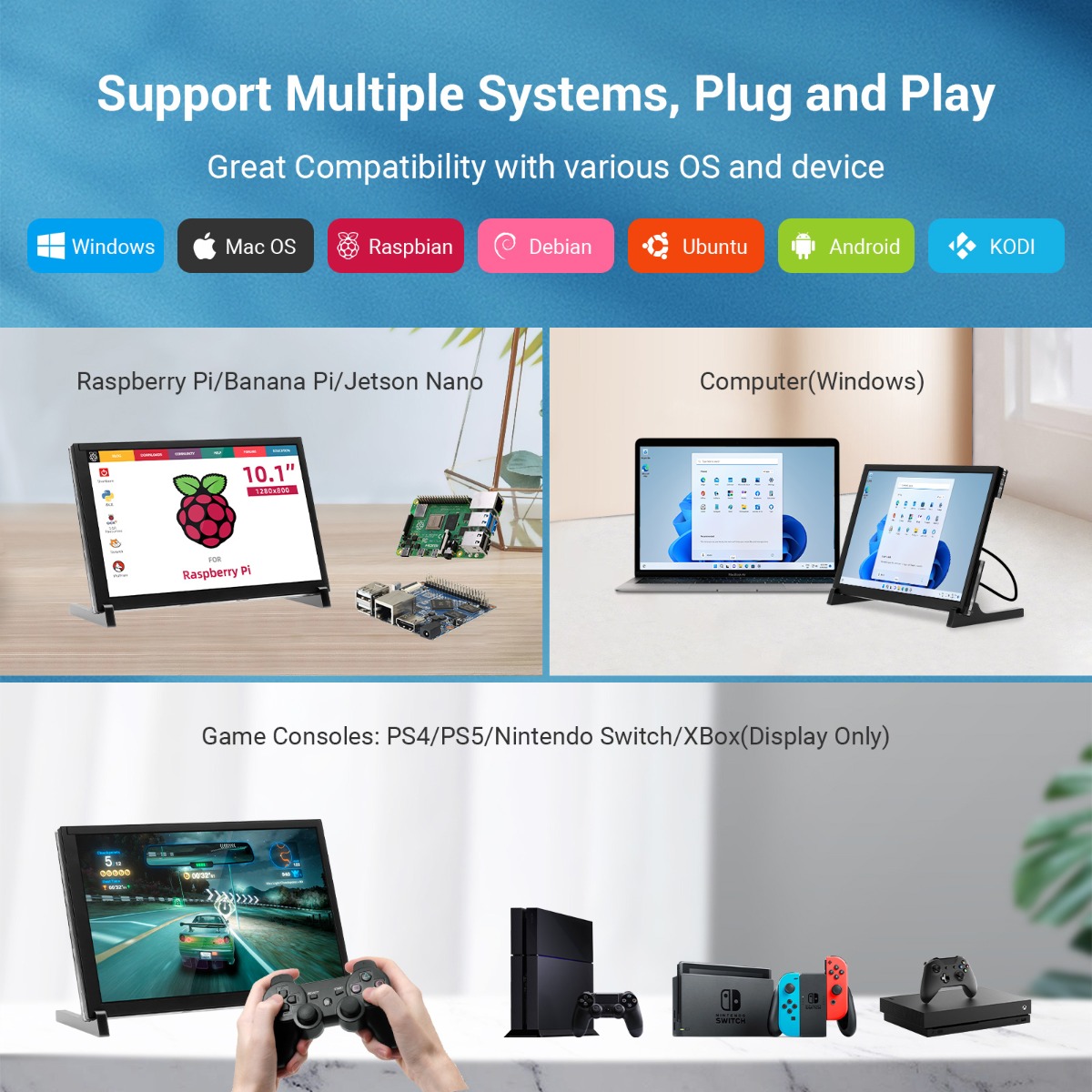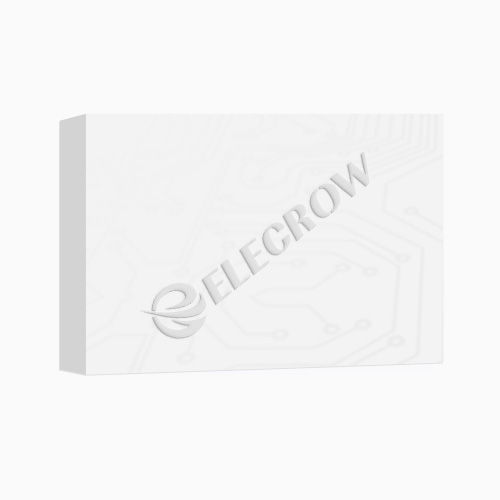 Connect with Raspberry Pi
The back side is reserved for Raspberry Pi 3/3B+/4B fixed assembly screw post, easily connect with Raspberry Pi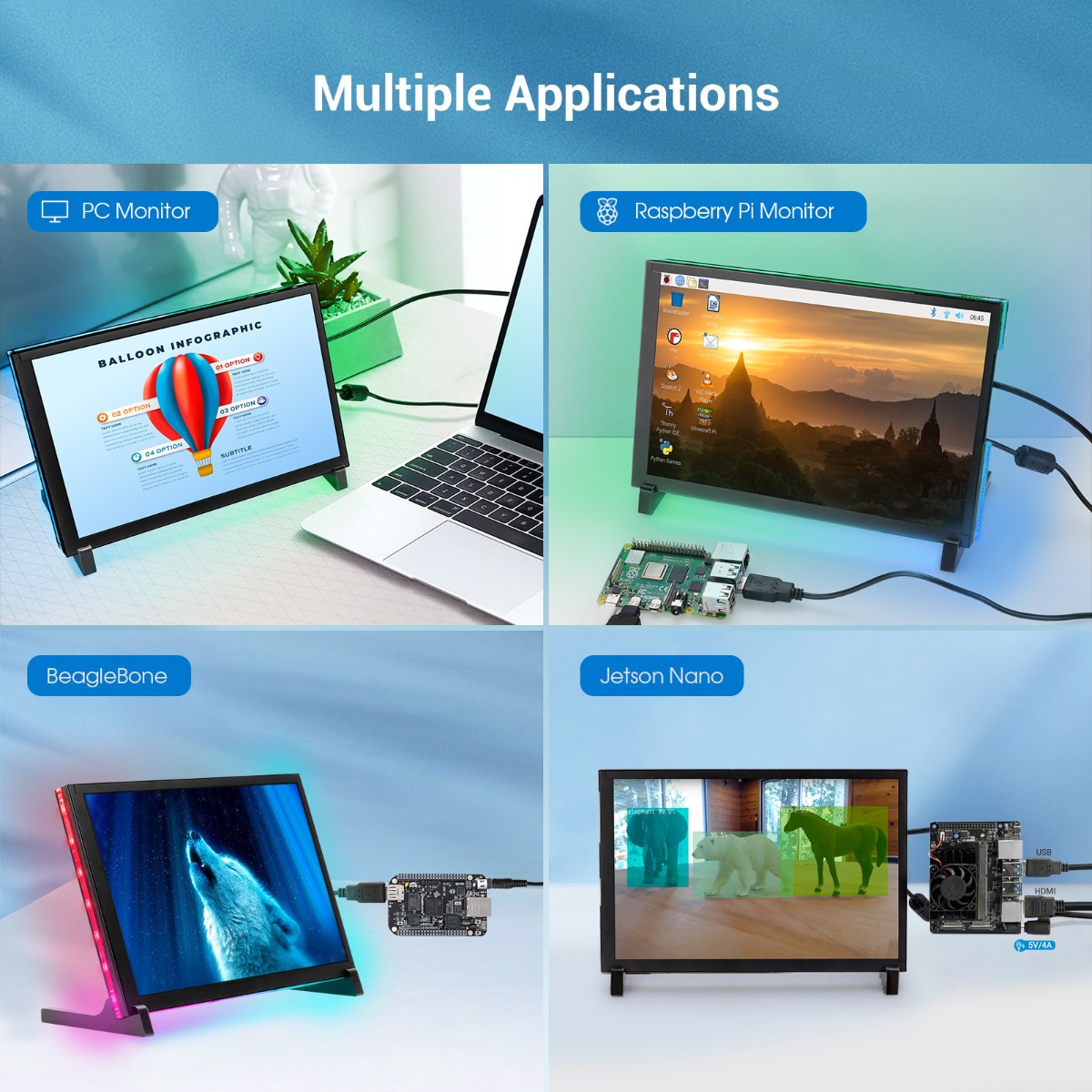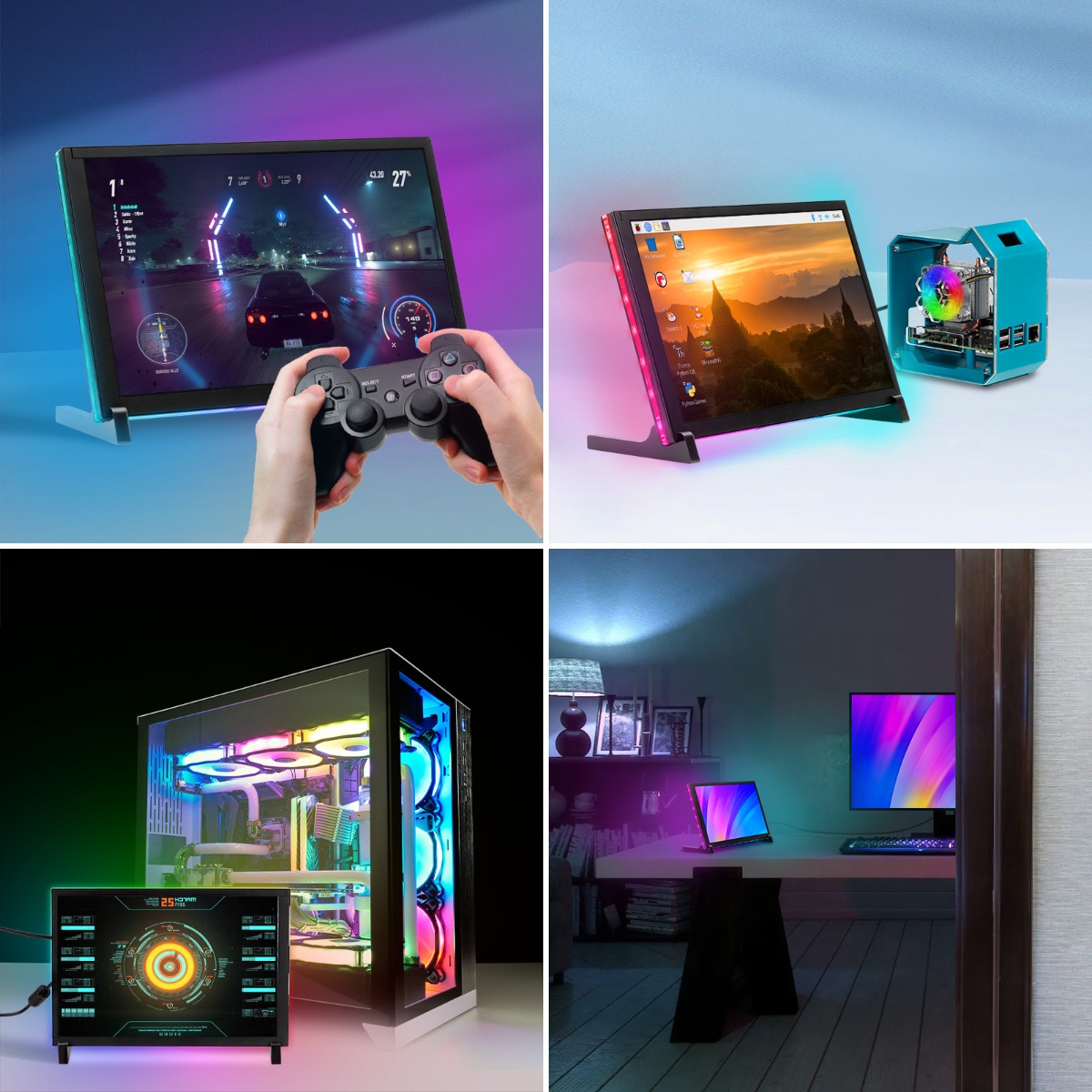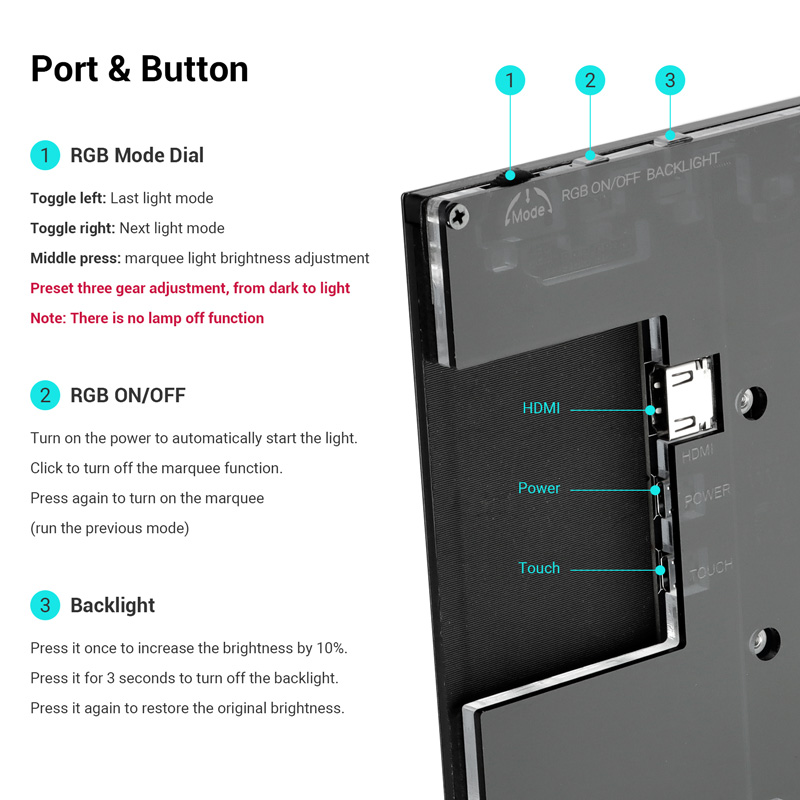 Feature

IPS HD 1280*800 resolution and 178°Full Viewing Angle present you with an excellent visual experience.

RGB water lights on the back create a cool atmosphere, 19 kinds of customized LED Flow the mode can be switched freely.

Support backlight control

Capacitive 5-Point Touch, smooth, accurate and fast response

Use HDMI-compatible communication, touch-free drive, plug and play, and easy to use.

Support Windows, Linux, Ubuntu, Kodi, etc.

Compatible with Raspberry Pi 3/3B+/4B, Jetson Nano, Beaglebone
Specification
 

 

 

 

 

Display Panel

Screen Size

10.1 inch

Touch

Capacitive 5-Point Touch

Backlight Control

Support

Digital input

HDMI-compatible

Panel brightness

300cd / m²

Contrast

700: 1

Resolution

1280X800

Viewing angle

178°Wide Viewing Angle

Appearance Dimension

239*157.5*12.6mm

Active display touch area

216.57*135.36mm

Power Supply

DC 5V-2A

Compatibility

compatible with Raspberry Pi 3/3B+/4B

Power consumption

5.29w(100% brightness without lighting LED string lights)

Panel

6H Toughened Panel

Net weight

540g

RGB light string

RGB Light Model

3535 models, RGB full-color light

Location

Located on the back of the screen, U-shaped layout

Quantity

27 pcs lamp beads, the interval is about 22mm

Brightness

A total of three gears (with button adjustment)

Power consumption

7.6W (RGB 100% brightness, screen 100% brightness)

Mode

19 Modes
Button

Backlight

Press it once to increase the brightness by 10%. After reaching 100%, press it again to return to 10%; press it for 3 seconds to turn off the backlight and press it again to restore the original brightness

RGB ON/OFF

Turn on the power to automatically start the light (the running light mode when the power was turned off the previous time), click to turn off the marquee function, and then press to turn on the marquee (run the previous mode)

RGB Mode(dial)

Toggle left: Last light mode

Toggle right: Next light mode

Middle press: marquee light brightness adjustment; (preset three gear adjustment, from dark to bright in turn, note: there is no light-off function)
 Noted: In the case of 5V 1A, RGB is not turned on, and the brightness can only be adjusted to 90%
RGB turns on 3-level brightness, and the brightness can only be adjusted to 30%
Package List
1x 10.1 inch monitor

1x HDMI-compatible Cable

1x Micro USB Cable(45cm)

1x Micro USB Cable(100cm)

1x M2.5 Screw Pack

1x Phillips screwdriver

2x Bracket

1x Micro HDMI-compatible Adapter