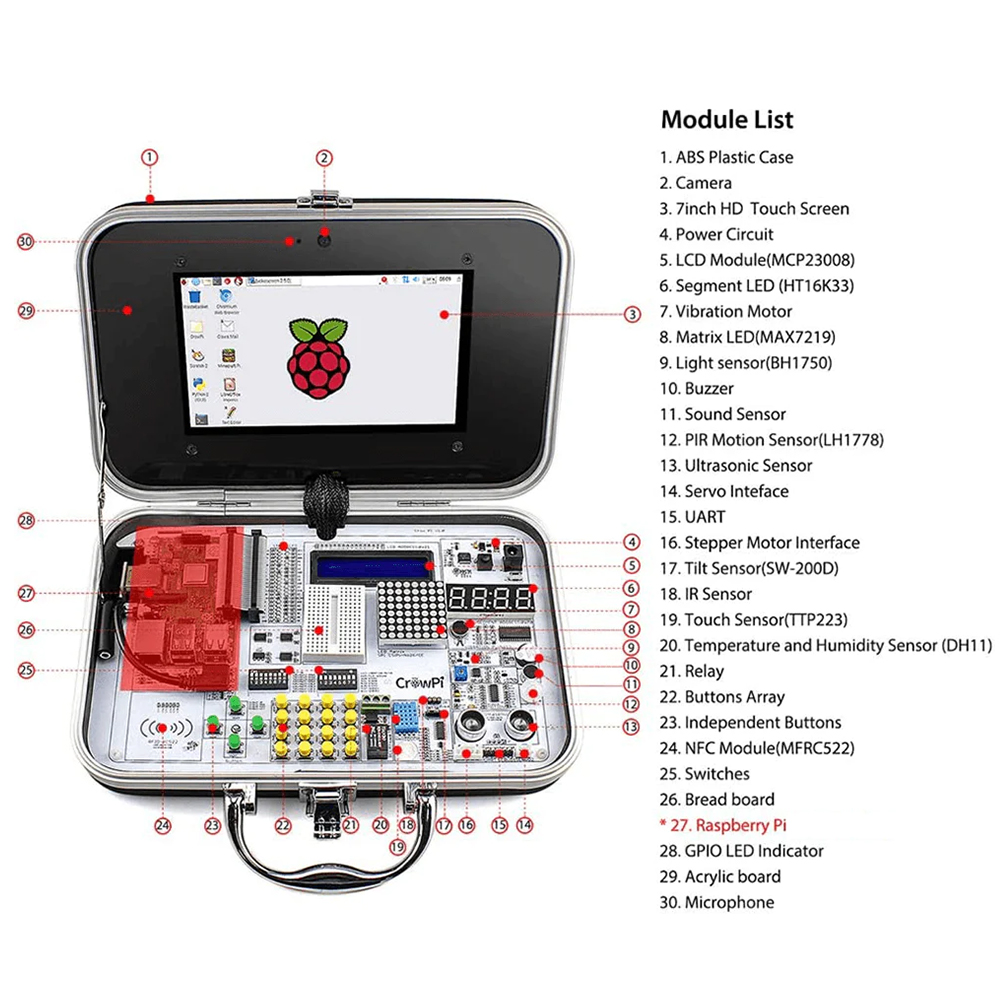 CrowPi is an all-in-one electronics education kit that includes enough buttons, buzzers, LCDs and accompanying tutorials to get beginners started with electronics and computer programming in a convenient and compact package. CrowPi is used in STEM learning environments and rapid prototyping of Raspberry Pi-based ideas, or simply as a portable computer. 
* The market bumped up the price of the Raspberry Pi due to the ongoing global chip shortage, so we added Raspberry Pi as an option, you don't need to buy RPI if you have it.
Tons of Projects You Can Do with CrowPi


With 7-inch touchscreen and camera
CrowPi comes with a 7-inch 1024*600 resolution touchscreen, the responsive touchscreen with multi-touch support. 
A ton of different sensors
A large number of inbuilt sensors, buttons and output devices allow you to do quite a bit right off the bat. All the various pieces that you can interact with and utilize from your Raspberry Pi's GPIO pins.
CrowPi can form a portable computer by adding a keyboard and mouse. Surf on the internet, watch videos, edit documents, take photos, send and receive emails, etc.
All of our lessons are written based on Scratch and Python languages. Users can utilize pre-written Python scripts to activate the various electronic gizmos within the case. CrowPi encourages users to explore more with the hardware and software once the tutorial is done.
Build Electronic Projects
Using components to complete the complicated projects, such as activating the LCD and LED segment displays, Building Automatic Fire Alarming and Extinguishing System, NFC Trigger System, Weather Station, Gesture control platform, Wifi wireless control. etc.
No matter you're a student, adult or professional, CrowPi is useful in any scenario. CrowPi includes enough buttons, buzzers, and gizmos to introduce you to electronics and computer programming in a convenient and compact package.
CrowPi Kit
CrowPi is sold as two different kits depending on your needs: the basic kit, and the advanced kit. The charger specification is 12v 3A. The only difference is that the CrowPi advanced kit has more accessories, including Bluetooth keyboard and mouse, earphones, gamepads and heat sink.